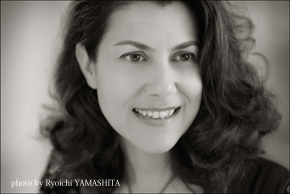 An international journalist living as a "bridge between France and Japan"
I was born in Paris and live now in Kagurazaka, Tokyo. Going back and forth between Paris and Tokyo, I am involved in a lot of different activities! I write articles and give talks covering a variety of areas, from personal themes like lifestyle and fashion, to women's issues, city design, and how to balance life and work. I also have to admit a passionate love for wine and gourmet cuisine.
Dora Tauzin
[Background]
International journalist and essayist. After obtaining a master in Applied Foreign Languages from the Sorbonne, graduated from the Paris Institute of Political Studies (Sciences-Po) with recognition for outstanding academic achievement.
A citizen of the world, Dora is fluent in five languages and has also lived in Berlin, London and New York. After working in the Public Relations Department of the United Nations, she moved to Japan to host NHK Television's "French Conversation" program for five years. She has also lectured at Keio University, and while currently a lecturer for organizations including the French Institute of Japan in Tokyo and the Academy of Wine, she is very active as a bridge between France and Japan, through many activities such as writing newspaper and magazine articles, as a charming host and speaker for lectures and other events. Dora also appears often on TV and radio as journalist and commentator as well.
Author of regular columns: "Dora's stray cat Bonjour!" (2007-2008, Asahi Shimbun newspaper) and " Column My Truth" (2009-2010, Tokyo Shimbun newspaper). Author of many books, including "Woman Before Mother" (Shogakukan) and "Live Your Own Life: Enjoy Today Parisian-Style!" (Kawade Shobo Shinsha).
Recipient of the Chief Secretary's Award (Cultural Communications Division) from the Ministry of Culture.
» Sanma and Okamura's premium Talk Show – Laugh! Super-Cosmic Special!!
http://v.youku.com/v_show/id_XMzA1OTQxODg0.html
» Why isn't marriage popular in France, the Nation of Love?
http://allabout.co.jp/gm/gc/383965/
» What are childcare and care for the elderly like in France? Japan, fight for love!
http://allabout.co.jp/gm/gc/384339/
» Françoise Bergaglia
http://www.fbergaglia.net/Entretien-DT.htm